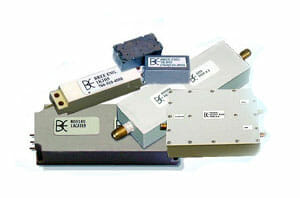 The passive components available in the Bree Engineering custom product lines include a broad range of both performance characteristics and unique applications. Cavity Filters are typically used to make bandpass filters with improved performance. The typical interdigital/combline filter can properly increase the passband insertion loss and rejection points to specifications that are difficult for lumped element technology to achieve. Bree Engineering utilizes our 20 years of experience to properly design and manufacture Cavity Filters. We are able to prototype and assess what to expect when it comes to the applicable performance of Cavity Filter designs. One of the more difficult aspects of interdigital/combline filter production is the physical dimensions and making sure that the simulated designs can properly be translated to the physical component.
Bree Engineering can efficiently design and produce Cavity Filters for any application, and we will gladly do our best to provide a quality product to our customers.
contact our sales team for details.
THE FOLLOWING ARE EXAMPLES OF PAST CAVITY FILTER DESIGNS