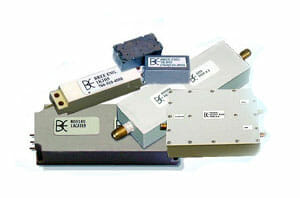 The passive components available in the Bree Engineering custom product lines include a broad range of both performance characteristics and unique applications. Filters cover the 0.1 Mhz to 40 Ghz range in Lowpass, Highpass, Bandpass, Bandstop and Multiplexing. 1% to multi-octave 3dB bandwiths are available. These filters can be configured in a number of formats to realize very simple to highly complex filter schemes. While Bree Engineering specializes in surface mount products these same designs can be packaged in more traditional pin outs and connectorized versions. Bree Engineering is capable of providing distributed element type filters, comblines and interdigitals.
Bree Engineering can efficiently design and produce drop-in replacements providing a competitive alternative source. contact our sales team for details.
Our products are available in any Configuration, contact our sales team for details.
THE FOLLOWING ARE EXAMPLES OF PAST RF FILTER DESIGNS